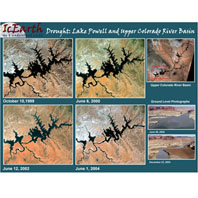 The Lake Powell Drought Event happened on June 01, 2000

Location of the event was:
Lake Powell

In the state of Utah
In the Country of USA

The Abstract for Lake Powell Drought:
Lake Powell's water level varies considerably and provides a good indicator of water conditions within the Colorado River's 246,000 square mile (637,137 sq. km.) basin. Lake Powell is part of a larger project to control flooding on the Colorado River, provide water for the Upper Colorado basin, and produce electrical power for the southwest United States. Precipitation levels in the upper Colorado River basin from October through December 1999 fell to 70 percent below average, signaling a low runoff for 2000 and the beginning of an extreme drought. The Landsat images show the receding lake levels of Lake Powell during the drought.