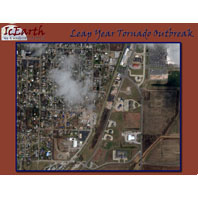 The Leap Year Tornados Event happened on February 29, 2012

Location of the event was:
Harrisburg, Illinois

In the City of Harrisburg, Illinois
In the Country of USA

The Abstract for Leap Year Tornados:
The Leap Year Tornado Outbreak 2012 was part of a violent system that ravaged the Midwest and South on February 28th and 29th, killing at least 13 and injuring 200 people in four states. The Leap Year tornadoes struck Nebraska, Kansas, Illinois, Missouri, Tennessee, and Kentucky. The satellite image shows the path of the tornado that struck Harrisburg, Illinois. More than 300 structures were damaged or destroyed, including 25 businesses and at least 10 homes and other buildings were leveled completely. Early estimates indicated nearly 40% of the city was damaged or destroyed.