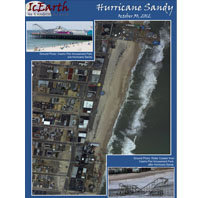 The Hurricane Sandy Event happened on October 29, 2012

Location of the event was:
Atlantic Coastline

In the City of Seaside, New Jersey
In the Country of USA

The Abstract for Hurricane Sandy:
The path of Hurricane Sandy stretched over 300 miles from Jamaica, Cuba, Hispaniola, the Bahamas, along the mid-Atlantic coast of the United States, and continued north to Ontario, Quebec. Twenty-four states were impacted with damages estimated to be over 50 billion dollars. Wind, rain, storm surge, and flooding caused major devastation along the mid-Atlantic coast, specifically New Jersey and New York. Millions of people were without power; fires decimated the Breezy Point neighborhood of Rockaway, Queens; and of the over 200 dead, 113 people died in the United States as a result of Hurricane Sandy.