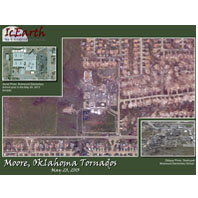 The Moore, Oklahoma Tornados Event happened on May 20, 2013

Location of the event was:
Moore, Oklahoma

In the City of Moore, Oklahoma
In the Country of USA

The Abstract for Moore, Oklahoma Tornados:
The city of Moore, Oklahoma is located within a region known as Tornado Alley. Between 1950 and 2013, nine EF5 rated tornados were recorded in Oklahoma. Two of those tornados struck the city of Moore, one on May 20, 2013 and the other on May 3, 1999. On May 8, 2003, an EF4 rated tornado tracked through Moore, Oklahoma. The triplet tornados, while occuring in different years, were within the month of May and followed a similar path tracking northeast through the city of Moore. The tornados caused severe damage and destructions of homes and businesses.